How to get rid your fear of the dentist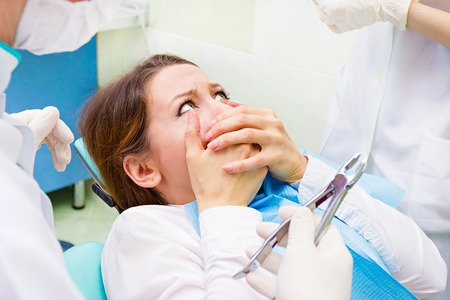 Nearly 50% of American population avoid dental treatment due to their dentist phobia. That means approximately 30-40 million people neglect their dental issue for their fear and anxiety. But most of them don't know that it is crucial to maintaining oral health for an overall good health. Because our teeth and gums also share blood, tissue, nerves with other parts of our body. That's why we have come up with some tips that can help you to overcome from dentist phobia.
Be the boss over your pain:

Just try to believe that you won't feel any pain except the novocain. Novocain used by dentist to reduce the pain for the patient. Tell the dentist about your fear and give the dentist a signal if you still have the sense or feel the pain. After that, the surgeon will take the necessary step. Try to be relaxed cause nowadays, there is enough medical precaution in the modern science which can reduce your pain it doesn't matter how big the pain is.

Pay attention to your body and surroundings:

Try to be relaxed, Unclench your jaw. Unfurrow your brow. If you still feel panic, try to start again. Think about something else, see your surroundings or ask the doctor to hang a poster of an ocean or something else above the chair. So, whenever you open your eyes, you will see that poster. It will help you to think something else except medical.

Take care of yourself:

After coming back from the medical take care of yourself. Try to put ice in your jaw, scour carefully with warm salt water whenever you are in pain. It will help you to control infection and swelling. These kinds of problem can happen after your surgery or post-procedure. If the dentist recommends you to take, pain killers take then even if you think you don't need them.

Talk to The Dentists

Talk to the dentist about your fears. This information would help the doctor find a good way to address and manage those fears. You'll feel more comfortable in the examination chair, by sharing the reason with the doctor precisely why the process is difficult for you.

Rely on Modern Technologies

Keep in mind that dental procedures have improved immensely within the past couple of decades. the latest dentistry has new ways and treatment choices to make you feel easy.

Exercise Your Right to Know About the Whole Thing

Your dentist can interpret the whole procedure to you beforehand, also walk you through stepwise, when the procedure is in action. you do have all the right to completely perceive the treatment being done on your teeth/mouth.

Additional Medicine

Take into account additional medication to relax. a lot of dentists suggest sedation, nitrous oxide, or anti-anxiety drugs for highly nervous patients. seek a dentist who offers these choices to help you get through the appointment.

Find a Dentist You Like the Most

seek a dentist you're cozy with and make a relationship of good understanding. There are several dentists in the dental field. search for a dental practitioner who is willing to act with you on the fears/anxiety and makes you feel relaxed .

Relax and Feel Free

Try to relax and breathe deeply. Some dentists suggest practicing relaxation techniques before and through the treatment session. some dentists find that fixing an appointment very first thing in the morning or listening music, before the stresses of the day comes into play, help patients to relax as well.

Be Smart

go for an agreement with the dentist to 'stopping' if you feel uncomfortable. according to a lot of-of dentist's survey, they have fixed a sign to "stop" with their patients. This gives you the control of the treatment and alerts the dentist in case you are uncomfortable or required take a pause during the appointment.

Visit Dentist Frequently

See your dentist frequently to prevent issues. Only going for a checkup may be nerve-wracking for fearful patients, but the more you discuss things with the dentist for routine treatment, the more possibly you're to eliminate complicated issues that lead to intensive treatment.

Talk to The Staffs

See the office and discuss with the staffs before you take your first appointment. you need to feel free to meet the dentist and to ask various thing related to treatment before planning your appointment. Meeting the dentist and his/her staff first would help you get a dentist you prefer and rely on.

Go slow

Dentists don't mind to go slow with anxious patients. If possible, make your first visit an easy one, like a cleaning/scaling. this will help you build a good relationship with the dentist before moving into for tougher issues.